Valentine's Day for Singles: Introducing Expert Nicole Xiques
As we are approaching Valentine's Day many of us may be feeling lonely and unsettled about our love lives. February is a great month to start to LUV yourself give back to one self and make sure that you are priority in your life before you head out to find the love of your life.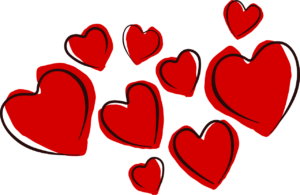 We are honored to have the amazing Nicole Xiques of the unguarded heart as one of our relationship experts! We were able to sit down and interview her  in this month of Love!
Join our Membership to chat or call with Nicole!
https://myluvtalk.com/membership-join/
1.  What is the perfect online dating profile?
The perfect online dating profile is all about representing YOU in the most real and authentic way. Since this is the "first impression" before meeting, it is best to showcase the true essence that is you. Be sure to write a bio that describes what you like, who you are (the best way you can) and what you are truly looking for. Pick pictures of times that you felt your best and were doing things that made you feel genuinely happy. Be confident in who you are and that energy will shine through on a profile.
Question 2: What are some great ideas for a first date?
I am a fan of non-typical first dates. Sure you can go for drinks, coffee or dinner. However, how about doing something like mini-golf, bowling, meeting for a free concert. Do something that while you can get to know each other, it's an opportunity to enjoy yourself and not have it be such an interview.
Question 3: Can women ask men out? Why or Why not?
I am a believer that women can most definitely ask a man out. Sometimes there are situations where men don't know if a woman is interested and her making a move and asking them out will give him the sign that she wants to get to know more about him. I think at that point if he accepts and there is interest from both sides, he can take the lead. Woman should be able to stand in their confidence and make their interest known, allowing the man to then show his interest in return.
Question 4: How can you spot a player?
As a woman we have an amazing intuition, yet we always feel the need to give men the benefit of the doubt. If something feels off it usually means it is. I think it can go both way. Sometimes a player can be a smooth talker, telling you exactly what you want to hear when you hear but something inside tells you it doesn't seem genuine. There are also those I don't know where I stand guys. They show you some interest and then don't call you for a few days. They might not necessarily be a player, but they sure aren't interested in getting to really know you. At the end of the day, your instincts can tell if something doesn't add up and you really need to start listening to it.
Question 5: How can we cope with heartbreak?
Heartbreak is a real thing. Emotions can affect what happens to your body and why heart break can physically feel excruciating. We must truly go through the stages of grief to get past our heartbreak and that means we must FEEL it. Not cover it up, but allow ourselves to process. Many times we re-create the heartbreak by stalking on social media, using coping mechanisms that are unhealthy such as getting drunk, sleeping with other people or moving on right away. Truth is, we need to FEEL our anger, feel our sadness and choose to shift our perspective and see the situation in a different light to gain acceptance. Surround yourself with people who will allow you to be in feeling, empathize and then call you out when you have stayed stuck in it for too long. Begin to do things that will allow you to see your worth, your beauty and true essence so that you can love yourself through the heartbreak.
Question 6. What are great romantic date ideas?
Oh this is fun 🙂 Some ideas…..Have a picnic on your living room floor (or any other room you'd like). Create a scavenger hunt for you and your partner to do together in your town. Put some date ideas of your own in a jar and pick it out. Go restaurant hopping where you pick a place for a drink and appetizer and don't tell your partner and he does the same for your next spot. Watch the sunset somewhere with a nice bottle of wine and a speaker with music playing.
Question 7. How do you handle cohabitation and splitting up household chores?
I think anything that has to do with cohabitation, living together and doing chores requires COMMUNICATION! Sit down and have a conversation about what things are needed from each other. Discuss what each of you feels is good to split, what person will handle the laundry, cleaning, picking up, etc. It's so important to talk about it and come up with a plan you both are comfortable with. It also allows you to get clear and detailed about how you want the household to work.
Question 8. How do you deal with betrayal?
Betrayal is going to happen in relationships. From the little white lie to a huge deal breaker. I think it is important to get clear on what types of betrayal you are willing to work on. For example, if your partner cheats on you, you can decide if that is something you would want to try and get past or not. In those types of situations, my recommendation would definitely be to seek professional help. When it comes to little white lies I believe you need to be able to see if this was a one time thing or a continuous habit. Address it head on, talk to your partner with an open and loving heart to express how the betrayal has hurt you. How your partner reacts will determine your next steps.
Question 9. What is Love?
Love is unconditional. It doesn't keep score, it doesn't blame, it sees the flaws of the other and chooses to love them anyway. It is open, it is vulnerable, it is willing to learn and grow and flourish.
Question 10. How do you keep love alive?
You keep love alive by letting go of being right in order to stay connected to the other person. So many times we choose, unconsciously, to let our ego lead the way of our relationships. Love is pure, it is kind and doesn't keep a guard up. Keeping the love going takes a conscious effort to making time for the other person, to forgive when they have hurt you and to put their needs before your own. If you have date nights, do something THEY want to do. If they need love and support, give it to them. When you both are coming from this heart space, love can't die.
Five Things You Need to Do While in a Relationship by blogger Casey

So I've shared some advice on how to find the right person and how to get in a relationship, but what about what you should be doing while you are dating someone? While you are in a relationship, it's important that you keep working on your relationship and put as much effort into it as you had while you were still getting to know your partner. Here are five things that you absolutely need to keep doing to maintain a healthy, strong relationship moving forward.
What's in a rose introducing guru Denise Adan from Jazzy's Flowers
Flowers have been a part of most cultures as a symbol for love and beauty for centuries. Think about the most common times people see flowers they are usually a celebration of life and love stories. We send flowers to a loved one to profess one's love. A bride carries flowers on her wedding day as she goes towards the groom. Flowers are key to those that we love and to those that love us.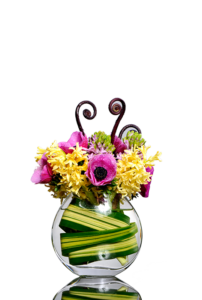 Introducing Denise Adan
Denise Adan is the manager  and event specialist of Jazzy's Flowers.
Jazzy's Flowers has been in business for over fifteen years, it has established its reputation as the preferred florist for discerning customers. We've mastered the ability to give our clients the very freshest product while keeping your design ideas at heart.
1.Question Why do people love flowers?
Flowers are an oddity, a rare treat from nature that is colorful, precious and fleeting. Combine that with an urban setting and people will gravitate to flowers when they see them. A lovely fragrance and visual show is hard to ignore.
2.Question What is a great flower for outdoor beach wedding?
Beaches are usually windy so sturdy flowers such as calla lilies, certain varieties of orchids and succulents are examples of ones won't bend in the wind too quickly.
3.Question What's a great first date flower?
A flower that represents any sort of new detail you love about the other person is best. Their favorite color, a flower from their hometown or a flower you felt a connection with…
4.Question: What's a flower for sympathy?
Lilies are a popular sympathy request and I usually throw in curly willow that reaches up, as if reaching for the sky. It adds some depth to arrangement.
5.Question: How do flowers depict someone's personality? Can a flower show individuality?
Absolutely it does, since flowers come in all shapes and sizes, different people like different flowers. Certain individuals want clean simple flowers such as a tulip while someone else will want the fattest fluffiest peony in the shop.
6.Question: What's a popular bouquet for anniversaries?
A recreation of the bridal bouquet or wedding flowers, 80% of the time.
7.Question: How can flowers set the mood of romance?
Since flowers are a luxury when they are around you know it's a special occasion. Having them in ones presence is also magical…
8.Question: What's a great just because flower bouquet? Why is sending surprise flowers a good or not so good idea?
Yes, surprise flowers are always a good idea!!! Though it's a nice gesture to hunt down a favorite flower sometimes that "favorite" flower is out of season and may be costly to find and not in the best shape either. You'll have more luck by choosing a color pallet, style and sticking with a seasonal selection.
9.Question: What is Love?
There are a lot of varieties of love but wanting a connection and having it reciprocated is a start. After that it is a set of behaviors that keep that connection growing.
10.Question: How do you keep love alive?
Lots of effort, self reflection, bettering yourself and communication. Keeping things light and remembering that kindness should be your first foot forward.
What Romance Means in a Long-Term Relationship by blogger Casey
In the beginning of any new relationship, romance comes pretty easy. It's dramatic, over-the-top, and exhilarating – a dozen red roses, a four-course dinner at a fancy restaurant, a walk in the park at dusk. This is the happy, 'Honeymoon' phase of a relationship where everything is blissfully perfect and you can't imagine being without the other person for even a minute.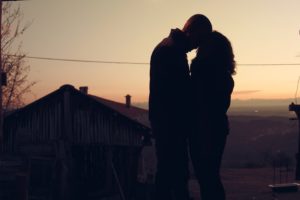 Speaking as someone who has spent plenty of time in the Honeymoon phase with relationships, it's the step after this that gets harder. After spending enough time together, you begin to settle down and get comfortable with each other, and all of these earlier 'romantic' gestures become less frequent and lose their necessity altogether. This is the time when things become real.
Once you've reached this real part of the relationship, the word 'romance' begins to take on a different meaning altogether – what I would argue is the true meaning of the word. Romance is not really about grand, over-the-top gestures anymore. Instead, it's about a million small, tiny actions and words that occur every day in normal life. You no longer need the proof of these earlier gestures to feel secure in the relationship; the relationship just is.
Romance now becomes about understanding and loving the other person completely; not despite their flaws, but because of them. It's seeing the other person for who they truly are, and choosing to be with them every day because they make you feel safe, comfortable, and happier than you are by yourself. It's about living your life and being yourself with someone beside you.
Light the Fire: Become the Goddess of Love Introducing Argentina Leyva
Humans have always been obsessed with love and romance. The goddess of Aphrodite is the representation of beauty, pleasure and romance. For centuries women have been trying to find ways to become the goddess of love.  We are often chasing a future lover in hopes of the thrill of being in a romantic environment with them. Candles, massage oil, flowers, are often encouraged to set the mood. With the modern lives we all live it can difficult to feel sexy and let romance flow.
We are constantly taking pictures to entice one another and set the mood. It can be difficult to find that spark that allows you to feel sexy and renewed again. Many women take boudoir photos not only for their lover, but to feel beautiful again. Beauty is more about you feel about yourself and how others treat you than the sole outer appearance. Yet, there is something that occurs when a woman is able to doll herself up and feel rejuvenated. She can truly become a goddess of love and set the mood for romance.
We had the great pleasure of interviewing Guru Argentina Leyva of The Art of Seduction Boudoir Photography. She has photographed over a 1,000 women. She truly helps women find their inner goddess of love.
What made you get into this style of photography?
I feel in love with the camera after photographing weddings and brides started to ask for boudoir, than older women. It is truly for women of all ages, in all walks of life dating or after a breakup. It allows you to see yourself as beautiful again.
What are your views on nudity in photography?
Nudity is  an art. The human body is art. People should  embrace your body it is beautiful and can be liberating.
With everyone having access to phones and hacking scandals occurring.  What photos should people keep on their phones?
People can keep whatever photos they want if they feel comfortable taking them. It's about expression of sexuality.
What are some moments people should photograph? 
Take photos of moments that make us feel connected to the world. It makes them feel happy. The restaurants or bars you have never been to, places and experiences you want to relive in photos.
How can men and women can feel confident in photos?
Both men and women should smile in photos. Women need to not have body shame focus on what you love about yourself, find great lighting, colors that you love,  a comfortable space.
Men need a reason to smile.
 What does love mean to you-
It is to embrace everything we are and what we do. It's everything.  It's an addiction, it means having something, feeling we are driven by it.
 What are your tips in keeping love alive?
To be grateful and  have grace. Happy with those things. Embrace good and bad. To become a better person and change attitude towards things. It is a part of the  human experience.
Finding Mr. Right by blogger Jessica
Finding Mr. Right
Granted, finding the right guy can be a heartbreaking task. However, if there's anything I've learned from being single it's that my happiness can only be determined by myself and if I'm not happy by myself, I will be unhappy even with Mr. Right by my side.
So, on the road to finding love;
Get a life: Build your personal structure first. If you are selfish and easily agitated, finding love will not change any of this, similarly if you are lazy, finding a hardworking man will not magically challenge you to be better. It's all in you.
Update your style:
Getting back on the dating wagon demands that you get your sexy on. Dress decently to accentuate your strong features and have heads turning for all the right reasons.
Understand what you are looking for in a man:
Their values, cultures, character traits, future plans. This way you know exactly when to back off from the wrong guy.
Get out there:
Mr. Right won't come looking door to door. Join dating sites, go for blind dates, attend social functions and I can guarantee you'll be out of the singles league in no time.